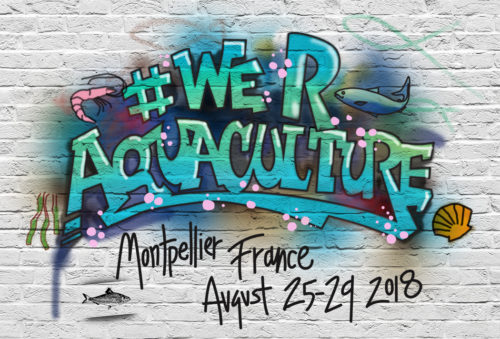 Upcoming FREE workshop: Inviting all aquaculture stakeholders interested in making sure that education delivers the best employees for the aquaculture sector!
EURASTiP CAPACITY BUILDING FORESIGHT WORKSHOP: ENSURING AQUACULTURE EDUCATION MEETS THE NEEDS OF THE AQUACULTURE SECTOR
DATE: 25 AUGUST 2018
LOCATION: AQUA2018, MONTPELLIER (FRANCE)
Aquaculture is one of the most important and rapidly expanding food production industries in the world.  As an exciting yet constantly evolving sector, excellent education underpins each person working in aquaculture.  An important question to ask is "whether aquaculture education is fit for purpose for the 21st century?"
Do current aquaculture educational programmes and methods sufficiently address many of the emerging trends in the aquaculture sector, particularly with regard to internationalisation, the global aquaculture economy and the specialised skills and competencies required throughout the supply chain to meet market demands?  Most of Europe's imported seafood comes from south-east Asia, and both regions have a substantial interest in collaborating at an educational level too, to ensure that aquaculture education delivers the best employees for the aquaculture sector overall.
This will be discussed at the 2nd EURASTiP Capacity Building Foresight Workshop in Montpellier this August.  The workshop will precede AQUA2018, one of the biggest aquaculture events in the world, with participants from over 60 countries.  The EU-funded EURASTiP project brings together aquaculture partners from both Europe and south-east Asia and aims to create and strengthen international cooperation on sustainable aquaculture between these two regions.  One area of particular focus is aquaculture education and training.
For Workshop conditions and registration, please check the flyer below.  * NEW * Registration deadline = 29 June 2018
Please note you will need to submit a completed Data Processing Consent Form along with your registration. The Consent Form can be downloaded HERE.
The EURASTiP Event Data Management Policy can be viewed here.
https://eurastip.eu/wp-content/uploads/2018/06/WeRAquaculture-small-e1529053729240.jpg
339
500
EURASTIP
https://eurastip.eu/wp-content/uploads/2017/03/eurastip-test.png
EURASTIP
2018-06-15 11:10:01
2019-06-26 11:48:58
EURASTiP Workshop Montpellier